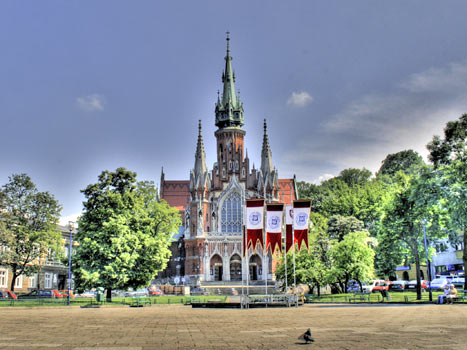 With Krakow's own Kontakt.io's blockbuster $2 mill gain in their latest round of fund raising, things are certainly hopping this summer in our gem of a town in the south of Poland. All of a sudden, Podgorze is the place to be for Krakow startups. It started with Hubraum moving here in last winter. This district was in the past home to Oscar Schindler's famous enamel factory as portrayed by Steven Spielberg. It was also the place of the old Jewish Ghetto during WW2. You can still see some segments of the old wall. However, jumping to the present, it is now the place where Krakow startups are building for their future.
Old Chocolate factory building New Technology
Estimote in recent weeks, moved into their new place in Podgorze district of Krakow. The building used to house a chocolate factory. Now, it is making something just as sweet. Jakub Krzych, the co-founder, said that the move was really needed because of the rapid expansion of the company and the team it was hard to work efficiently in their old coworking space. Furthermore, with the extra space more comes more possibilities. At the moment, there are still lots of work being done on the premises. However, when all are done, there could be meetups, hackathons, and other events in the space.
Coworking in a new space
Colab has also made Podgorze their new home as well. The coworking space who in the past hosted the current leaders of the community like Duckie Deck, Estimote, Landingi, and Presspad now has about 20 thousand square meters of coworking space available. It will continue to host the weekly Open Coffees every other week. Along with a desk with the usual facilities, you would have access to experienced mentors like Pawel Nowak of Presspad and Przemek from Notatek.
Forming new Partners
Speaking of Duckie Deck, the children's game app developer is also located in Podgorze. They are located in the Chance coworking space along with Format. Recently, they have been mentioned in the Washington Post and the Guardian. They continue to make partnerships with various telecoms and fast food restaurants to provide quality content for their customers.
Krakow Startups, if you have any new developments that you would like our readers to know about please feel free to contact me. I would love to cover you.
Thank you for reading another one of my posts done just for you! If you liked what you read please share it by using one of the buttons up top and check out other posts in this blog.
I don't want you to miss out on future posts so please follow me on Twitter
@Eurodude23
.
If you haven't done it already, please like my fan page by
clicking here
!
See you next time!