Founded in 2010, it is one of the few Polish startups, which was profitable since the beginning of the operation. The company's founders introduced attractive revenue model for customers and the company quickly became influential, which led to a further, independent development.
In 2013, because of its success, kodyrabatowe.pl, using its own funds formed International Coupons. At the moment, it is composed of several services with discount vouchers worldwide. In the spring they entered into several key markets in South America, Asia and Africa - explains Szymon Dobosz, CEO of International Coupons.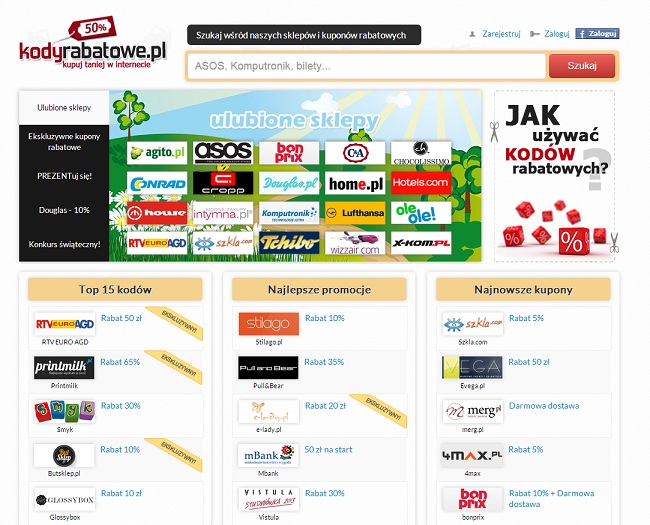 For several months the company has also developed a mobile application Kodyrabatowe.pl, that provides the latest promotions and discount codes unique to the largest stores and most popular restaurant chains in the country. The founders of the International Coupons ultimately want to create a comprehensive tool to save across all internet platforms, stores, restaurants and entertainment venues - With further international expansion and the rapid development of mobile applications, we require considerable financial costs, we decided to find an investment partner that would not only support us financially, but just as importantly, will help us with implementation - continues Dobosz.
According to estimates by the service in the last 12 months with discount codes benefited about 20% of Polish Internet users. This purchase of goods and services worth nearly 200 million zł. International Coupons are present in 18 countries.
The Management Board (Szymon Dobosz - CEO, Bartholomew Tyranowski - CTO) stated that the new investments will be spent on development in these areas that require sizeable capital and whose return on investment is long-term.
It is mainly the development of mobile applications and in foreign markets.
Thank you for reading another one of my posts done for you! If you liked what you read please share it by using one of the buttons below and check out other posts in this blog. I don't want you to miss out on future posts so please follow me on Twitter
@Eurodude23
. If you haven't done it already, please like my Facebook fan page by
clicking here
! And if you like the content you have read, and are looking for a content writer for your team please go to www.contentfarm.org for details. See you next time!