by Beata Young & Kamila Stepniowska
Using a picture of a dying national hero to advertise vodka? Sure, why not!
Attempting to bring humour to social media has had disastrous consequences for a Polish agency and their vodka client…
Many Poles grew up with the mixed vision of both empty shelves during communism and the spirit bottle with characteristic rye emblem. No celebration could be considered complete without a vodka called Żytnia. Even under Communism, Poles knew how to party: provincial weddings often expanded to a week of constant, vodka-fuelled, celebration.
Amidst growth in nostalgia and retro fashion, many brands, startups or celebrities seek to attract attention with a vintage logo, perhaps posting a pinup girl or other arresting image for good measure. In a supply saturated market of (often self-proclaimed) social media 'gurus,' lower cost services are widely offered as agencies compete for market share
When it comes to managing campaign risk, what might be an "oops" moment for, say, a small restaurant, should never happen with a bigger brand. Risk management is vital in brand reputation. Unfortunately for one high profile distiller, the recent #ŻytniaGate incident has been voted the biggest failure yet in Polish social media. Given that the campaign proved wrong due to multiple, easily avoidable, factors, this is hardly surprising.
Don't mess up with national heroes
The story begins back in 1982 in the south-eastern city of Lublin when then Communist Poland was under martial law.
On August 31st, Krzysztof Raczkowiak was an innocent spectator at a peace rally
organized by the underground opposition Solidarity Movement. The event commemorated the second anniversary of the 1980 Gdańsk Agreement, an accord where Lech Wałęsa had led a strike which achieved embryonic improvements in citizens' rights.
The peaceful demonstration was confronted by the notorious ZOMO riot police. Two people were killed with many more wounded. A third man died a week later from his injuries. The confrontation was captured by the spectating Krzysztof Raczkowiak who had his camera to hand but had initially been too scared to take photographs. Urged by a participant to record ZOMO
brutality, he raised his lens with incredible results. His most candid image showing the body of fatally injured Michał Adamowicz being carried by four protesters, became a powerful symbol of government brutality.
Back in the modern digital era: for reasons which remain unclear, the Żytnia facebook fanpage manager foolishly chose to deploy this iconic image of a barbaric totalitarian state at war with its own citizens, as a perfect illustration for a rather ribald back story.
Adding insult to injury, having apparently appropriated the photo from a Google search, the hapless media manager created a campaign related to stag party movie "The Hangover" (in Polish: "Kac Vegas"). The resulting caption included the juvenile subtitle "The Hangover? Screenplay written by Żytnia".
The outcry was understandably swift and brutal. The photographer himself and The Institute of National Remembrance were amongst a multitude who expressed disdain and even outright disgust at the twisting of an historic national tragedy.
Żytnia parent company Polmos Bielsko-Biała promptly cancelled the social media agency's contract in a rather slapdash fashion as the backlash spread rapidly across not merely social media but the country as a whole.
Clearly, tobacco and alcohol companies have to be particularly careful when promoting their products to prevent accusations of promoting substance abuse.
Indeed this campaign serves as a useful case study of what _not_ to do in these circumstances. Photos need to be researched for their historical perspective (after Google, sites like "Tin Eye" can be a great help). It also may have helped in this case if the social media agency staff had paid attention to school history classes! This photo, sits in the Polish psyche in the same way, for example, certain iconic images of Vietnam are recalled by Americans.
Besides, even a perfectly 'harmless' image of men carrying a comatose body might be a touch 'edgy' for those worried about public drunkenness. From a management perspective, it is difficult to discern what oversights were coherently delivered before this campaign was placed live… with fairly catastrophic results for the brand and its agents.
Moreover, the significance of Corporate Social Responsibility (CSR) has grown in recent years. On the eve of the 2016 enforcement of an EU directive requiring companies to disclose their CSR practices (or lack thereof) in a management report, there is clearly work to be done amongst many dynamic businesses who are trying to make their voices heard amidst a sea of competition online – startups and traditional sectors alike. A crisp, amusing message can garner a lot of publicity. However, a campaign which exposes the company's ignorance of history and human suffering while cavalier about the effects of overindulgence will result in a massive own goal.
Better the conversion rate is not enough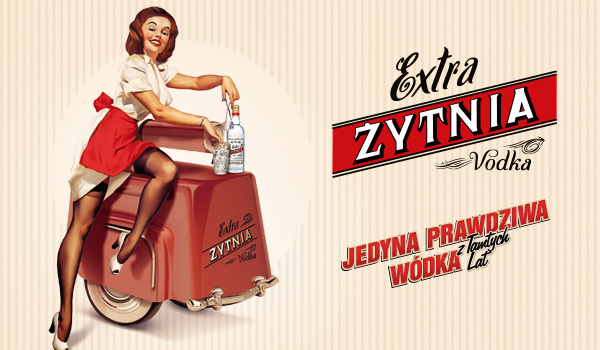 Is this semi-upskirt seductive enough for you?
Worse still, the modern internet means the aftermath of the campaign will be clear for all to 'Google' for years to come. Companies, especially in emerging markets, need to improve their management ethics while competing for customers' attention. A cohesive brand / reputation management process makes strategic sense too.
Meanwhile Żytnia-gate continues to fester. On some corners of the internet, there are allegations the vodka company posted their tasteless caption intentionally ahead of the Lublin event anniversary as part of some rather twisted campaign. At least there is one silver lining – this fiasco has raised awareness, reminding consumers of the evils of past human rights abuses under the totalitarian Communist government, in an era long before social media.
Traditionally a picture has been worth a thousand words. Now images are the agents of a few hundred likes, many retweets, pins and shares of all sorts – the more, the merrier, or rather, the better the conversion rate.
However the peril of a hasty social media 'guru' lazily grasping the "Ctrl C" keys raises issues of taste, tact and indeed copyright permission all being over-ridden in the quest for a few 'likes.'
Despite its traditional clarity in distillation, sometimes vodka can leave a lingering aftertaste.
Thank you for reading another one of my posts done for you! If you liked what you read please share it by using one of the buttons below and check out other posts in this blog. I don't want you to miss out on future posts so please follow me on Twitter
@Eurodude23
. If you haven't done it already, please like my Facebook fan page by
clicking here
! And if you like the content you have read, and are looking for a content writer for your team please go to www.contentfarm.org for details. See you next time!
Beata Young is a serial entrepreneur and Co-Founder of the Polish grassroots startup group "Mission ToRun." Her portfolio includes community crowdfunding platform "HanzaTrade"
https://hanzatrade.com/en/
nominated for ecommerce debut of the year (Ekomersy 2014) and the "Manufaktura Hanza" coffee / foodstuff brand.
Kamila Stepniowska COO & Partner at Linque Solutions http://www.lq-s.com/, Advisor at She's Coding http://shescoding.org/ , public speaker. COO atGeek Girls Carrots (GGC) (May 2012 – June 2015). She established, facilitated or developed GGC chapters in New York, Berlin, Seattle, Łódź, Warsaw, London, and Tokyo.