ANNA BLASZCZYK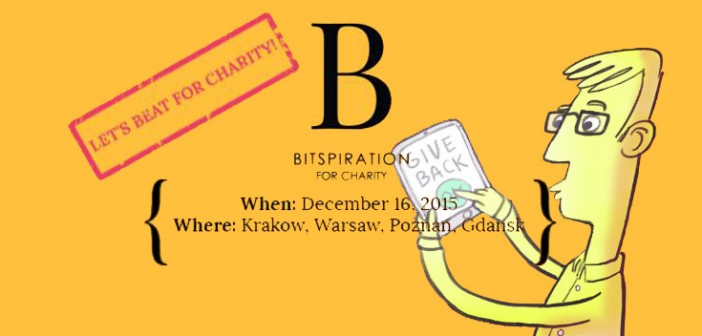 Bitspiration4Charity – Polish startup community unites to help kids beat cancer!
December 16th – remember the date! Startup representatives will meet on four parallel events in four Polish cities with most developed startup scenes – Krakow, Warsaw, Poznan and Gdansk. They'll share one big idea – combining education with charity. This event is the first of this kind in Europe.
On December 16th startups, entrepreneurs, investors, media and new technology enthusiasts will meet in four different cities at the same time to spread the big-hearted idea of helping children who fight cancer.
Bitspiration4Charity is the biggest gathering of the startup community in Poland that makes use of its vast potential for a noble purpose. The event combines sharing knowledge with supporting local hospitals and cancer treatment centres for children. That's why all the ticket fees will be solely donated to those facilities in Krakow, Warsaw, Poznan and Gdansk!
Why it is worth to join the event
When you're happy to get a lucrative contract – they're happy to see their mom once again.
When you're sad about a project that failed – they're sad about not visiting their homes for months.
When you're uncertain where to invest money – they're uncertain of what the doc will say this time.
Opportunity to help children who fight for their future is the main purpose and the most important benefit of Bitspiration4Charity. Besides the charity aspect, it is also a chance to attend the biggest startup event in Poland, uniting the whole polish technological community.
Everyone that joins Bitspiration4Charity will have the opportunity to participate in creative workshops and inspiring lectures led by the best, world-renowned experts and mentors. Attendees will expand their knowledge and practical skills, meet the speakers, specialists and journalists in person and make valuable business contacts.
PROIDEA
, the organiser of well-known
Bitspiration Festival
, is responsible for the substantive value of the event.
The event will end with a magnificent after party for all attendees, celebrating the contribution to the charitable idea of helping children with cancer. All the money collected during the event will be transferred into bank accounts of hospitals and cancer treatment centres in cities above.
Let's beat together for charity!
Thank you for reading another posts for you! If you liked what you read please share it by using one of the buttons below and check out other posts in this blog. I don't want you to miss out on future posts so please follow me on Twitter
@Eurodude23
. If you haven't done it already, please like my Facebook fan page by
clicking here
! And if you like the content you have read, and are looking for a content writer for your team please go to
www.contentfarm.org
for details. See you next time!
This is a repost of an article that appeared on itkey.media on October, 30 2015